Get to know your 2019 WRISE Leadership Forum Co-Chairs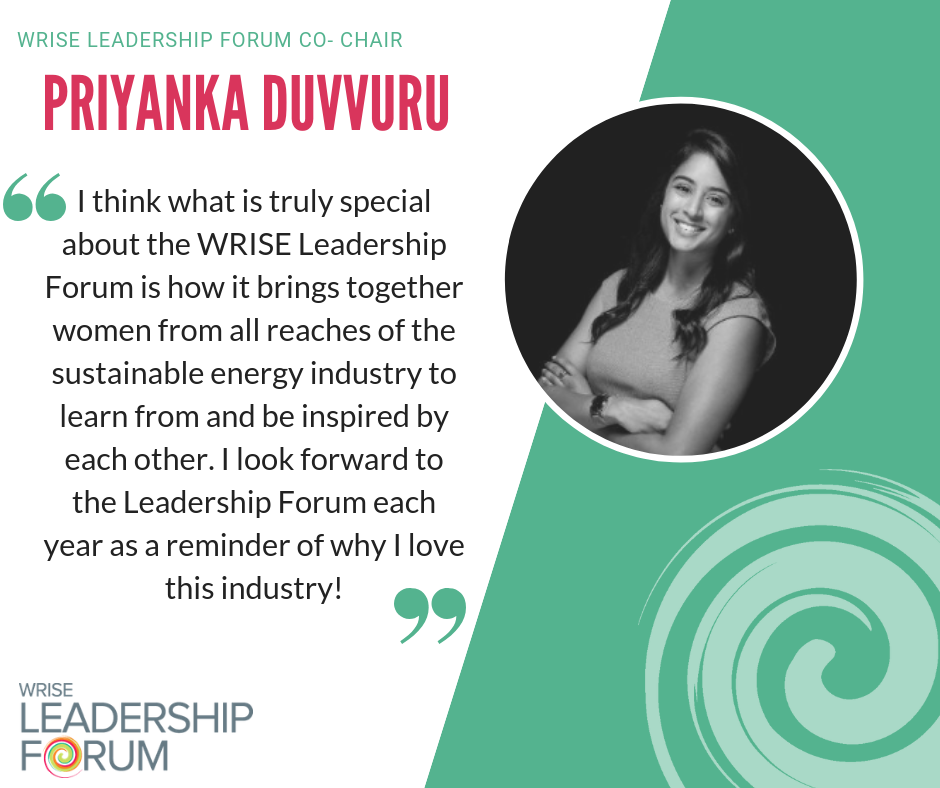 Get to know your Leadership Forum Co-Chairs: Priyanka Duvvuru
Meet Priyanka Duvvuru. Priyanka is on the Investment Team at Stonepeak Infrastructure Partners, where she focuses her time on evaluating renewable and water infrastructure opportunities. Prior to Stonepeak, Priyanka was a Project Developer at Clean Line Energy, where she worked to develop long distance transmission lines to unlock stranded renewable energy resources and deliver them to population centers on the east and west coasts. Priyanka has been a Co-Chair for the WRISE Leadership Forum for the past two years.

What do you think is special about the WRISE Leadership Forum?
I think what is truly special about the WRISE Leadership Forum is how it brings together women from all reaches of the sustainable energy industry to learn from and be inspired by each other. I look forward to the Leadership Forum each year as a reminder of why I love this industry!
What do you read/do to keep yourself 'in the know' on the latest trends and updates in clean energy?
I listen to a lot of energy podcasts – The Energy Gang, The Interchange, The Columbia Energy Exchange, and The Energy Transition Show.
Outside of your love for renewable energy, what do you like doing in your spare time?
In my spare time, I love being outside (preferably running or hiking), reading and going on adventures in New York City.
What advice would you give to women wanting to advance their career?
Put yourself outside of your comfort zone. This can be little things like taking on an additional side project at work or coming up with an idea for a new initiative. By purposefully trying something new, you will force yourself to grow and this initiative will be noticed by your superiors.
What advice would you give to women beginning their career in the renewable energy industry?
Get involved! The best thing you can do for your career is to meet as many people as possible in the renewable energy industry and a great way to do that is through industry organizations like WRISE.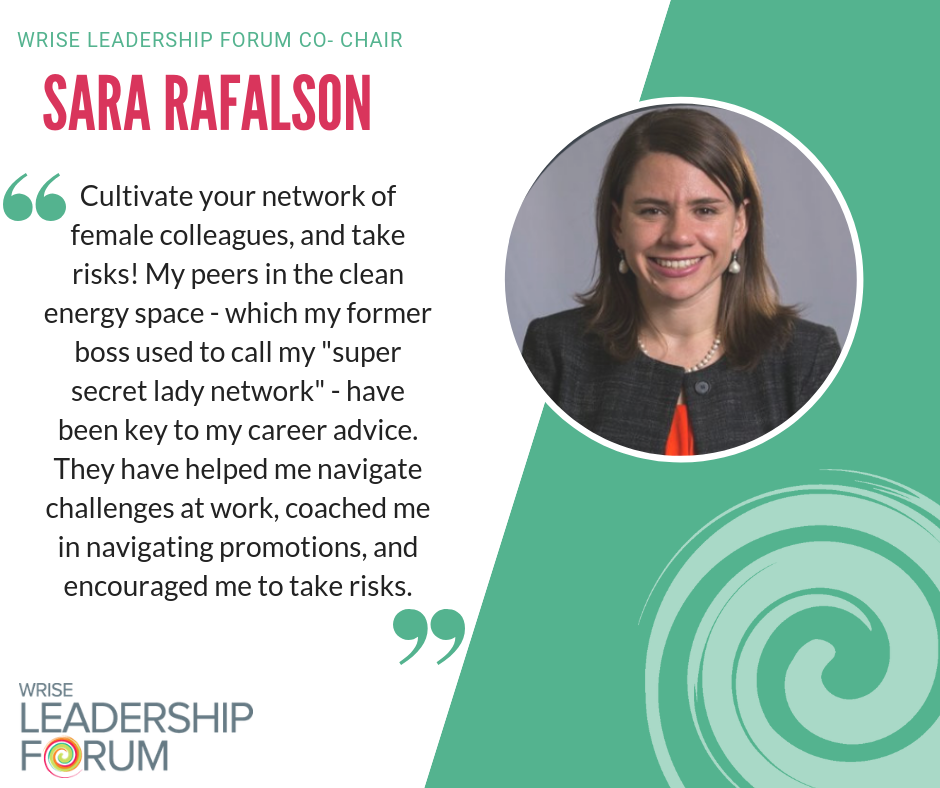 Get to know your Leadership Forum Co-Chairs: Sara Rafalson
Sara Rafalson is the Director of Market Development at EVgo. Prior to joining EVgo, Ms Rafalson worked in the solar industry leading public policy and market strategy efforts at Sol Systems, serving as Vice Chair of the Board of Directors for the Maryland-D.C.-Delaware-Virginia Solar Energy Industries Association (MDV-SEIA), leading national initiatives to increase recruitment and retention of women in cleantech industries through the Solar Energy Industries Association (SEIA), and serving as the former President of Women in Solar Energy. At EVgo, Rafalson leads public policy and market strategy efforts, working with utilities, regulators, industry partners, and state legislatures across the country to advance opportunities for DC fast charging and transportation electrification from her office in Oakland, CA.
Rafalson has a degree in International Studies, Sustainability, and Spanish from the University of North Carolina at Chapel Hill, where she graduated Phi Beta Kappa.

You lead national policy efforts for EVgo. What do you love about your job?
After working in the renewable space for almost seven years, I have enjoyed the opportunity to tackle greenhouse gas emissions from another important sector: transportation.
If you could give yourself once piece of advice when you were beginning your career based on what you know now, what would you tell yourself?
Choose your boss, not just the company.  I've been so lucky to work for so many great bosses who have been instrumental in my professional development. Given that your direct manager is so important to your overall happiness at work, choose wisely!
Who has been a person of influence in your career and how?
I've been lucky to have a number of mentors throughout my career that have supported me, served as a sounding board, and encouraging me to take risks in my career. Meghan Nutting, EVP of Policy & Government Affairs at Sunnova, has been one such mentor. Two of my former bosses – Stephanie Smith and Natacha Kiler – have provided me with tremendous support throughout my career, and though we no longer work together, I'm lucky to count them both as lifelong friends.
What are you currently reading or what do you think should be required reading?
I recently finished Michelle Obama's Becoming, which I read through just as I would a Harry Potter book: turning quickly through every page, but wanting to savor every chapter so I didn't finish *too* quickly. I loved it.
What advice would you give to women beginning their career in the renewable energy industry?
Cultivate your network of female colleagues, and take risks! My peers in the clean energy space – which my former boss used to call my "super secret lady network" – has been key to my career advice. They have helped me navigate challenges at work, coached me in navigating promotions, and encouraged me to take risks. Notably, before relocating to the West Coast, I wanted to take off time in between jobs to travel the world, which is very uncommon in our culture, but it was something I had wanted to do for years before I actually took the leap. My network of women supported me, encouraged me, and gave me the confidence to take the risk, letting me know they'd be there for me when I got back. I ended up traveling for 9 months, and it was one of the happiest, most fulfilling periods of my life. And, sure enough, when I came back, my network of supportive female colleagues helped me navigate my career transition, which was seamless. Definitely worth the risk.