Individual Member Levels
Your individual member level is based on your experience in the industry. If you are not in the industry and want to join WRISE and support our mission, feel free to join at any membership level.
All memberships are at the National level. Ten percent of your membership payment is reserved for your local chapter.
If you have questions about what level is right for you feel free to contact us at membership@wrisenergy.org.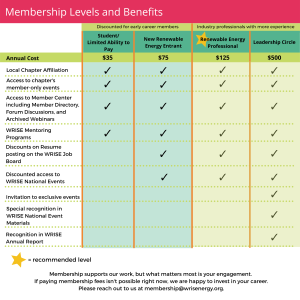 Corporate Membership
If your company is a corporate sponsor, your organization may have sponsored your membership already. If you see your organization on this list, please reach out to us at membership@wrisenergy.org to receive the link to process your corporate membership.
Complimentary Membership Pin
As a member benefit, every active member can request a free lapel pin at this link in the Member Center. Your pin will be mailed to you within 5-7 business days.
Membership is Tax-Deductible
WRISE is a national 501(c)(3) nonprofit public charity, so all financial gifts, including membership fees, are tax-deductible to the extent allowed by law.
Members Are Eligible to Join the Clean Energy Credit Union
As a member benefit, every active member is eligible to join the Clean Energy Credit Union. Clean Energy Credit Union is currently offering checking accounts, savings accounts, money market accounts, CDs, IRAs, debit cards, a residential solar electric system loan, a clean energy vehicle loan, a residential geothermal system loan, a green home improvement loan, an electric bicycle loan, and online/mobile banking services. Once someone becomes a member of the Credit Union, they are a member for life. Click here to join Clean Energy Credit Union.