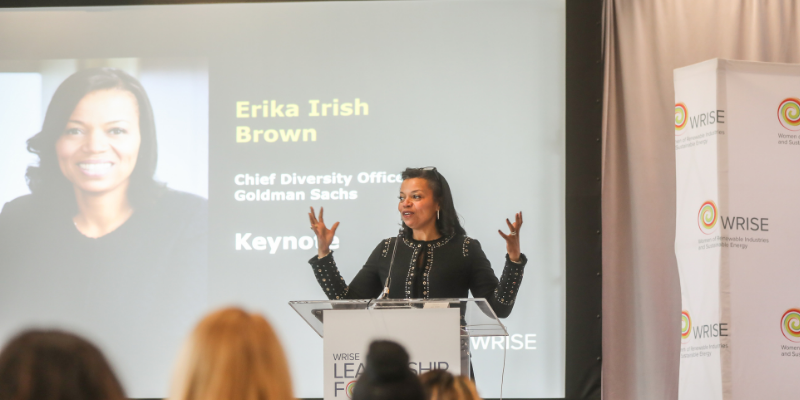 REPRESENTATION MATTERS
The success of renewable energy depends on our ability to bring a diversity of great ideas and minds together. Thought leadership across events, conferences, panels, and webinars is a critical part of creating space for as many different voices as possible. The WRISE Speakers Bureau was created to help change the narrative and we look forward to the day that stages and headlines of renewable energy reflect the true diversity we need.
The WRISE Speakers Bureau
The WRISE Speakers Bureau is a public, searchable database of qualified speakers, willing to publicly speak, present, and engage on renewable energy topics. This Speakers Bureau supports our organizational mission and promotes underrepresented voices across the renewable energy industry in North America.
SEARCH THE SPEAKERS BUREAU DATABASE>
Join the Speakers Bureau
You can make a difference by joining our Speakers Bureau. We will provide inexperienced public speakers with the training they need. Speaker diversity benefits the individuals who take the stage and also the audience, who learns from a variety of perspectives. It opens the door for more women in the future; seeing individuals with diverse perspectives and backgrounds presented as role models helps to inspire those who want to add their voices to the conversation.
The Speakers Bureau Training Program
Public speaking can often be intimidating at first. We will be launching a speaker training program to support the community-at-large – individuals brand new to speaking or those just interested in continuing to improve – working to develop and refine skills. The speaker training program is for everyone! This community is currently underdevelopment – as it grows we plan to provide a variety of opportunities including public speaking workshops, learning how to be an effective moderator, tools for speaking up and getting your ideas heard in meetings, preparing to talk with the media, and work communications like giving and receiving feedback, etc.
PARTICIPATE IN OUR SPEAKERS TRAINING PROGRAM>
[UNDER DEVELOPMENT- SIGN UP VIA SPEAKERS BUREAU]