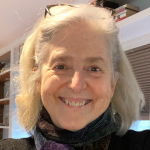 Anne Weisberg (She/Her/Hers)
Senior Advisor in Residence
Women of Renewable Industries and Sustainable Energy (WRISE)
How did you get involved with WRISE? I got involved with WRISE when Kristen reached out to ask me to speak on a panel because of my expertise in designing and running women's initiatives in the private sector. Little did she know that I had been a VISTA volunteer in New Mexico working on solar energy in the late 1970s!
What is your favorite part of WRISE? My favorite part of WRISE is the very intentional and thoughtful way it builds community. A just transition to a sustainable future cannot happen unless everyone is part of and benefits from the clean energy economy and WRISE reflects this value through its approach to its mission.
What advice would give a woman trying to start her career in renewables? My advice to a woman trying to start a career in renewables would be to make the most of the WRISE community. Career success is the product of results and relationships. WRISE provides both – by helping you improve your skills and by providing you with an amazing network of women willing to help each other.
What is your favorite sports team? My favorite sports team is the New York Mets for two reasons: I love my husband and he loves the Mets, and they are the perennial underdog and I love rooting for the underdog!
What is your favorite flavor of ice cream? My favorite ice cream flavor is coffee mocha chip, especially when it is made by my son for my birthday, which happened recently!