WRISE Company Spotlight: Invenergy

Company Spotlight
Emily Paice, director of global sourcing at Invenergy, began attending WRISE meetings early in her career.
"There is certainly still a need for groups that provide a platform for women in the industry," Paice says "It's been great to see how WRISE has grown its efforts to provide this. WRISE is one of the most accessible of the industry groups, an approachable network of people whose ambitions are directly applicable to the work we do at Invenergy."
 Eventually, Paice served on WRISE Chicago Chapter's board of directors from 2017-2019.
Invenergy has been a proud partner of WRISE since 2007, and its team members helped found the Chicago Chapter of WRISE in 2010. Several Invenergy colleagues have spoken at WRISE events since then and have hosted a variety of fundraisers for WRISE and its fellowship programs. They strive to celebrate the industry-renowned work being done by the teams of women at Invenergy and throughout the industry.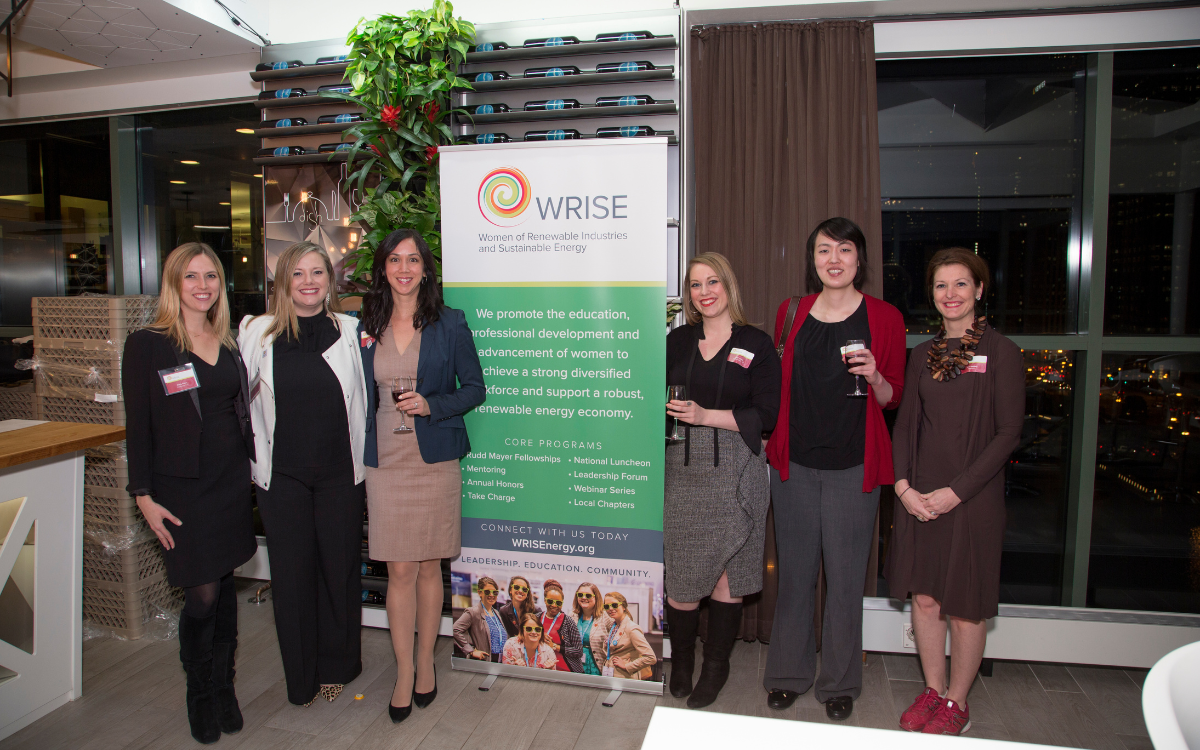 As a company, Invenergy drives innovation in energy and its affiliated companies develop, own, and operate large-scale renewable and other clean energy generation and storage facilities in the Americas, Europe and Asia. The organization has developed 191 projects across four continents and has forged long-lasting partnerships with a broad range of utilities, financial institutions and commercial and industrial businesses.
"Events that highlight women engineers and help raise money to fund internships for women rising in their field really resonate with members," says Rolanda Shine, Invenergy vice president of international finance. Shine started out on the WRISE Chicago Chapter's ongoing education subcommittee and eventually joined the fundraising subcommittee. "Everyone who came to the meetings and signed up to the subcommittees was excited to be there and welcoming, she says"
 WRISE also influenced the development and scope of the Invenergy Women's Network (IWN), whose annual awards and fundraising efforts are dedicated to the advancement of women in the renewables industry.

"We felt it was really important to recognize the impact women are having on the industry, and we thought WRISE's annual Woman of the Year, Rising Star, and Champion awards would be great accolades to introduce at Invenergy," says Andrea Hoffman, Invenergy's senior vice president of global risk. The WRISE annual awards have been discontinued, however; IWN decided to carry on the practice of awarding deserving colleagues within the organization each year. 
Invenergy is proud to champion the work being done by WRISE and encourages women from all disciplines to consider a rewarding career in the sustainable energy sector. This year, Invenergy's partnership with WRISE enables all Invenergy employees to join the organization free of charge. If you're interested in becoming a part of the rapidly growing renewable energy industry and are looking for a role that offers continuous learning and career growth potential, check out openings at Invenergy here.
Company Spotlights are reserved for WRISE Champion and Leader Corporate Sponsors, Learn more about corporate sponsorship>