WRISE Member Profile: Meet Mackenzie Meinhold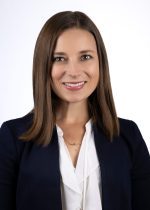 Mackenzie Meinhold
WRISE Mentoring Committee Co-Chair
How did you get involved with WRISE? I moved to Washington, DC for a job in renewables, and I joined WRISE to make new connections. The best part was getting involved with the peer mentoring program! I had two great in-person peer mentoring groups prior to the pandemic, which introduced me to great women (and men) in the industry.
What is your favorite part of WRISE? I co-chair the WRISE Mentoring Committee, and I've loved getting to meet volunteer committee members, most of whom are outside of my legal field. My focus is on updating the WRISE 1:1 mentoring program, which we are planning to roll out soon.
How did you get started in this field? I started in solar in 2015 working for a developer and EPC contractor in North Carolina. I originally planned to practice environmental law, but life took a different turn when the job market was less than stellar upon graduation. I started doing real estate for this company and quickly transitioned into all other areas of a renewables practice. Now I can't imagine doing anything else.
What is your favorite flavor of ice cream? Moose Tracks – what is better than mini peanut butter cups?!
In the movie of your life, who would be cast to play the lead (you)? I like to think Natalie Portman would be the perfect fit.