WRISE Member Profile: Meet Jessica Fischer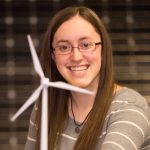 Jessica Fischer
Chapter Leader – NY Capital Region
What is your favorite part of WRISE? The friendly network is by far my favorite part of WRISE. Regardless of whether you regularly attend local chapter events or are just swinging by a chapter event because you're on business in that city, you're always welcomed and there's always someone with a small world connection. I love meeting new people, and WRISE is the perfect way to foster great connections.
How did you get started in this field? I knew I wanted to be in the renewables space when I attended my first environmental science class in high school. While touring colleges, I drove past New York state's largest onshore wind farm, the Maple Ridge wind farm, and was mesmerized. That solidified my love for wind energy and ultimately helped me choose to pursue a career as a mechanical engineer. From there, the support of WRISE's informational programming, wind power fellowship, and mentorship network supported my journey into the industry.
What advice would you give to someone trying to start their career in renewables? To put it simply, be bold! This is one of the kindest industries you can be a part of, so take the plunge and reach out to that connection on LinkedIn to learn more about their career path or ask them to be your mentor. Speaking of mentors, my career wouldn't be as fruitful without my variety of industry mentors – find someone you trust and keep up the conversation! You never know where your network will take you.
What is your favorite flavor of ice cream?I love a good vanilla/chocolate twist soft serve – you'll catch me reaching for that every time! But if we're talking hard ice cream, cookies and cream is my next go to.
What is your favorite sports team? I'm from Buffalo, NY, so the only correct answer to this question as a Buffalonian is the Buffalo Bills! (Although I'm a huge ice hockey fan of any level.)