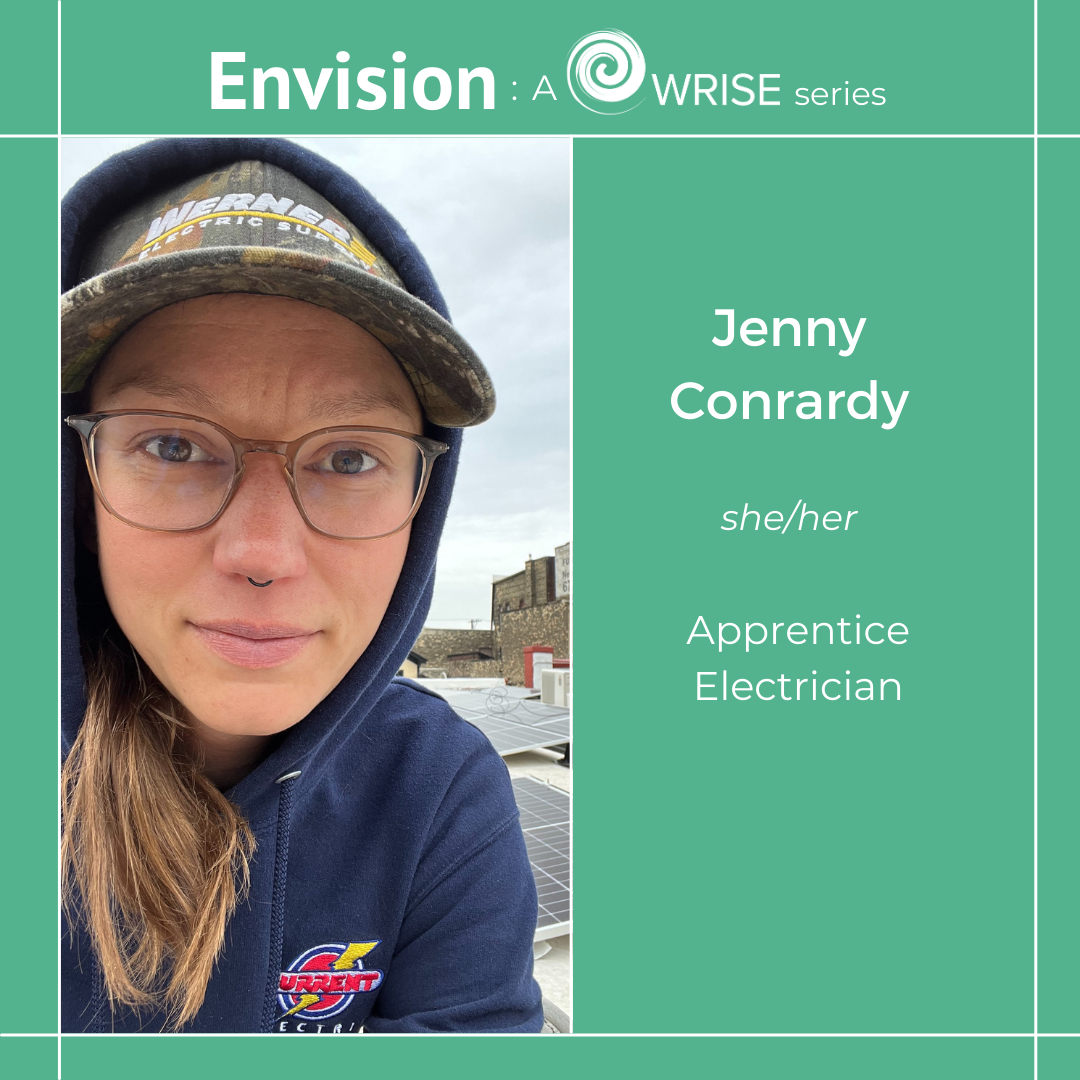 Envisioning Your Path
We asked Jenny about her education, early defining moments, and entering the industry. Essentially, what were the building blocks to get her on track to where she is today?
Jenny started her career journey at UW Madison, where she majored in art and minored in religious studies. But it was her extracurricular activity of working on CSA (Community Supported Agriculture) farms that led her to her career path today. After graduating college, she enjoyed working in local sustainable agriculture, but became a single mom 3 years ago and needed to find a profession that was more financially suitable. Jenny decided to go to a technical college to pursue a new career path, and stumbled across solar – her history working in agriculture made the industry feel familiar.
Envisioning Overcoming Challenges
We asked Jenny about her experiences with adversity – what roadblocks she faced along her path, and how/who helped her to overcome these challenges. 
It took Jenny a while to find the right fit in terms of company and team, but she's found support in both her workplace and her school. At work, her co-workers Donny and Lee – who have a combined 35 years of experience – have taken her under their wing and taught her a lot. At school, though she's the oldest and the only woman in her class, her classmates have been supportive and helpful, creating a safe space for dialogue.
Envisioning The Future
We asked Jenny what she's looking forward to in the future, young people in renewables she has her eye on, and what advice she'd give to those looking to follow in her footsteps.
Jenny's words of advice to anyone who wants to follow in her footsteps is to "Stay strong and be persistent! Even if you don't find the right fit immediately, there are so many options to explore in the trades, in the solar field, and in renewables overall that if you don't feel right at home right away, it's important to shop around and see what works for you." In the future, she'd like to see more diversity within the trades – she shares "It's not about usurping what's already been built, it's about using it as a platform to include it for everyone."